Scholarships - College of Education
Overview of all Scholarships
NSU General Scholarships
Outside Scholarships
Graduate Scholarships
Future Teachers
Education /
Psychology /
Health & Human Performance majors
Scholarships for Future Teachers
Oklahoma State Regents for Higher Education (OSRHE)
Future Teachers Scholarship
The Future Teachers Scholarship Program was established by the Oklahoma State Regents for Higher Education as an incentive to encourage the preparation of teachers in critical shortage areas in the public schools of Oklahoma.
Eligibility:
The student must be a resident of Oklahoma.
The student must be nominated by the college on the basis of one of the following criteria:

Cumulative high school grade point average ranking in the top 15% of his or her high school graduating class; OR
ACT or SAT score ranking in the top 15% for high school graduates of the same year; OR
Admission to a professional education program at an accredited Oklahoma institution of higher education; OR
An undergraduate record of outstanding success, as defined by the institution.

Full-time and part-time students are eligible for the scholarship; however, highest priority will be given to full-time students.
Scholarship recipients must maintain no less than a 2.5 cumulative grade point average.
Each recipient must agree to teach in a shortage area (listed below) in Oklahoma public schools for a minimum of three (3) consecutive years upon graduation and licensure as a teacher.
Recipients may receive the scholarship for not more than four years, or the equivalent of four years, of full-time study.
Deadline: May 28, 2021
Please submit/mail completed applications to:
Darla Chewey
NSU College of Education
717 N Grand Ave
Tahlequah OK 74464
Questions concerning the scholarship should go to Darla Chewey, chewey01@nsuok.edu
---
I Want to Be a Teacher Stipend
The stipend is for first time, full time incoming freshmen enrolled at NSU in one of our teaching degrees, and is for Oklahoma and non-Oklahoma residents in the amount of a one-time award of $1,000 ($500 for fall, $500 for spring) and can be used for any educational expense.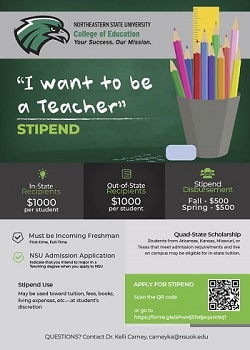 Completion of this form does not guarantee you will be awarded the stipend.
For questions, contact Dr. Kelli Carney at carneyka@nsuok.edu.
---
All College of Education Majors // Education, Psychology, Health & Human Performance
SNAG Scholarship
Applicants must meet ALL of the following requirements:
Must be enrolled in a degree-seeking course of study within the NSU College of Education.
Both undergraduate and graduate students may apply
Full-time
GPA: 2.75
Please attach a resume and/or list of extracurricular activities you are involved in.
Preference will be given to students involved in major-related extracurricular activities or who have great financial need.
Deadline: April 30, 2021
light the way emergency fund
In celebration of the 125th anniversary of Seminary Hall, President Steve Turner issued a challenge to the Northeastern State University Centurions and President's Circle donors to establish an emergency fund for NSU students in need. This new funding source is designed to assist students (undergraduate and graduate) during times of crisis in order for them to maintain their enrollment. It is designed to enable a student to meet a short-term financial hardship and is maintained by the Northeastern State University Foundation.

See the application and instructions here in PDF format.