News Archives
College of Education News Archives
Look back through all of the exciting events and news articles of the happenings in the NSU College of Education.
Oreo Phases of the Moon
Dr. Linda Wilson, Curriculum & Instruction faculty and director for the COE's Center for Educational Creativity and Innovation (CECI), demonstrates a creative way to teach children about the phases of the moon on News On 6.
To see how to make "Oreo Phases Of The Moon", watch the video at Oreo Phases Of The Moon - newson6.com
Ingredients
A package of Oreos (Double Stuff works best)
Each child will need 8 Oreos, more if they crack
A butter knife and
A paper plate
Sharpie
Instructions
Depending on the age of your child, let them use a Sharpie to label each phase on the paper plate
Gently separate the Oreo so all filling is on one side
Be very careful as you separate your Oreos. If they crack, you'll have to eat them!
The full moon and new moon are already done when you pull apart your Oreo
Scrape off the filling to create 2 crescent moons, 2 half moons and 2 gibbous moons
Discuss why the moon looks like it does in each phase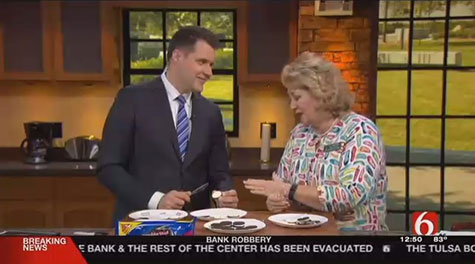 NSU EDUCATION PROFESSOR'S 'FLUFFY SLIME' RECIPE
Dr. Linda Wilson, Curriculum & Instruction faculty and director for the COE's Center for Educational Creativity and Innovation (CECI), showed Dave Davis, Reporter from the News On 6 at noon, how to make "Fluffy Slime" and use it as a learning tool.
To see how to make "Fluffy Slime", watch the video at NSU Education Professor's 'Fluffy Slime' Recipe - newson6.com.
Fluffy Slime Recipe
Ingredients
4 cups White School Glue
8-10 cups shaving cream (less than a full canister)
1-12oz bottle contact lens (saline) solution
Food dye, optional
Or for a smaller portion:
1 cup glue
3 cups shaving cream
5+ Tablespoons contact lens solution (this will need to be adjusted based on your slime - things like humidity and type of shaving cream will mean you need more or less)
Directions
Empty glue into a large mixing bowl.
If you are adding food coloring or glitter, stir this in now.
Stir shaving cream into slime mixture, stirring continually.
Add the contact solution in small amounts at a time. This acts as the slime activator.
Once the slime is cohesive, no longer sticky or appearing to have any liquid in the mixture, start kneading the slime. This is going to help it be less sticky.
Knead the slime for at least 3 minutes before adding any more ingredients to adjust.
When the slime has been thoroughly kneaded and adjusted, give it to the kids in a clean solid surface.
Note: You can add glow in the dark paint to this recipe, but most glow in the dark items require a 48-72 hour activation period. You can also add glitter to this recipe if you wish.
NORTHEASTERN STATE UNIVERSITY, UNITED KEETOOWAH BAND OF CHEROKEE INDIANS IN OKLAHOMA SIGN MOU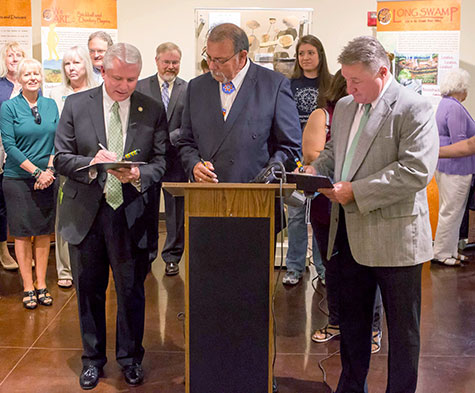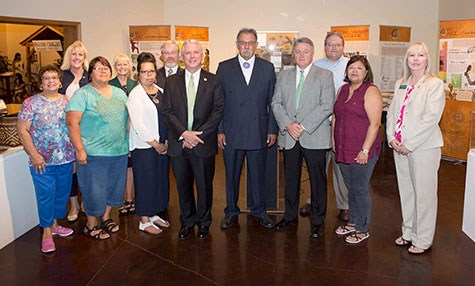 DR. MARIA CHRISTIAN HONORED BY STATE REGENTS' COUNCIL FOR ONLINE LEARNING EXCELLENCE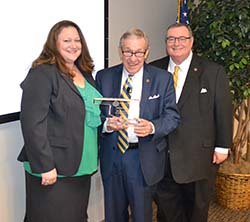 DR. BEA KELLER-DUPREE, ASSISTANT PROFESSOR OF PSYCHOLOGY, SELECTED OKLAHOMA MAGAZINE 40 UNDER 40 2017
Elizabeth "Bea" Keller-Dupree, 32 — Tulsa
Associate Professor of Psychology and Counseling, Northeastern State University; Owner/Therapist, Enrichment Counseling & Consultation
As a professor of psychology and counseling at Northeastern State University as well as a licensed professional counselor, Bea Keller-Dupree says she loves that her career path encourages her to be a lifelong learner. "I have tons of interests (both personally and professionally), and in my career, the more I learn, the better equipped I am to counsel and teach a variety of people," she says. "I often am reminded that there is a trickle-down effect to my learning: when I am engaged with my learning, my students benefit. When my students benefit, their future clients benefit. When future clients benefit, the communities we live in benefit." Keller-Dupree's desire to help people extends beyond her profession – she builds service learning into her courses and volunteers alongside undergraduate psychology and graduate counseling students at NSU at churches and community organizations. She has also served with Red Cross as a Disaster Mental Health Counselor. "I think the causes I support through volunteering are rooted in community – whether that community is local or abroad. I value being hands-on with specific community needs."
BA PUBLIC SCHOOLS TO HOST DISTRICT-WIDE ART SHOW AT NSUBA – APRIL 10-14, 2017
Broken Arrow Public Schools will host its seventh annual district-wide art show April 10-14 at Northeastern State University - Broken Arrow. Following the show, senior high art will remain on display for the remainder of April.
The public is invited to view pre-kindergarten through senior high school art exhibits between 8:30 a.m. and 8:30 p.m. Monday through Thursday and between 8:30 a.m. and 5:30 p.m. on Friday.
An opening night event is slated for 5-7 p.m. April 11 in the Visitors' Center Gallery in the Administrative Services building.
Student art work will be on display in various campus buildings, which is a first for this annual show. All displays will be accessible via enclosed walkways which connect all campus buildings, and visitors are encouraged to visit each exhibit.
High school art will be in the Administrative Services building in the first floor Visitors' Center Gallery and lobby. Middle school art will be in the Liberal Arts building in the second floor walkway and atrium. Elementary school art will be in the library in the first and second floor walkways and in the central areas. Pre-kindergarten art will be in the Science building in the second floor walkway.
NSU CELEBRATES RECORD NUMBER OF DAVINCI AWARD WINNERS IN 2017
BAKER SELECTED AS OPEN EDUCATIONAL RESEARCH FELLOW
Alesha Baker, instructor in the Educational Foundations and Leadership (Library Media and Information Technology) department was selected as an Open Educational Research (OER) Fellow by the Open Education Group. Alesha is one of 22 fellows chosen from around the United States and Canada. This fellowship provides mentoring opportunities to assist Alesha in conducting research on the use of open textbooks in both higher education and P-12 settings. She recently presented her most current research on open textbook use at the Open Education Conference held in November 2016. The presentations included an examination of the creation and adoption of open textbooks in a P-12 school and the Open Education Wise Initiative at Oklahoma State University where she worked as their Open Education Research Assistant in the Spring of 2016. Alesha plans to continue researching the impact of open textbooks on the outcomes of secondary students' Science tests. She also plans to modify her courses to include open educational resources and open pedagogy.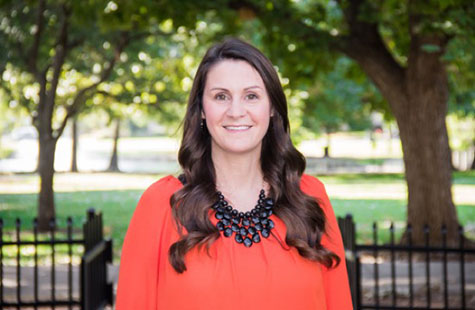 VEX ROBOTICS RECOGNIZED AS NSU COE PARTNER WITH RBPEA
The Regents Business Partnership Excellence Award (RBPE) is designed to highlight successful partnerships between higher education institutions and businesses. VEX Robotics was been selected by President Turner to be honored this year, along with other businesses selected by other institutions in the Oklahoma State System of Higher Education. The College of Education partners with VEX Robotics in a variety of ways to impact teacher candidate and P-12 student learning. The RBPE luncheon reception and award ceremony was held on Tuesday, March 7, 2017 at the University of Central Oklahoma in Edmond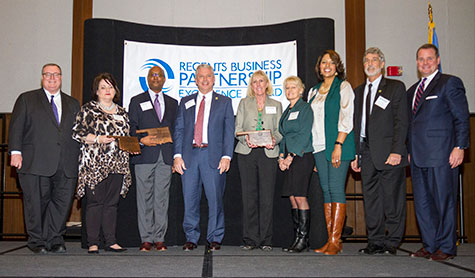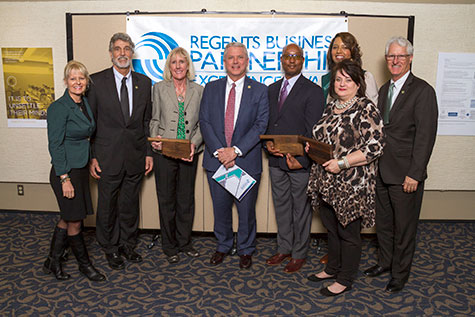 COE MASTER'S STUDENT TAKES CLASS FROM WOODALL PUBLIC SCHOOLS TO THE WHITE HOUSE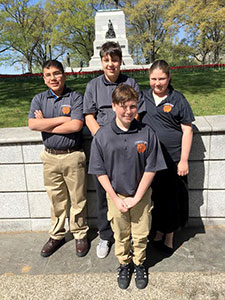 DR. BEA KELLER-DUPREE NAMED 2016 DAVINCI FELLOW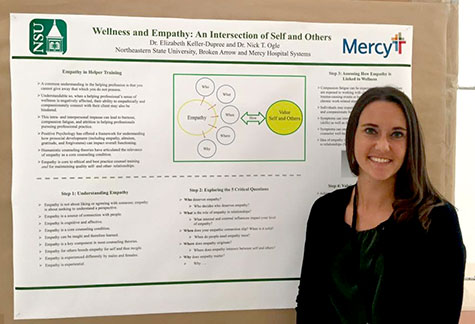 Dr. Bea Keller-Dupree, COE assistant professor of psychology, was awarded the honor of being named a 2016 DaVinci Institute Fellow. Dr. John deBanzie, professor of biology, was also named a fellow this year. The award recognizes innovation and creative responses to unique challenges in the classroom. This honor includes a $1000 cash award and will be conferred at the DaVinci Institute Honors and Awards Ceremony at the Oklahoma History Center on April 1, 2016. Oklahoma is one of only 13 recognized Districts of Creativity in the world. It is the only state in the U.S., and the only location in North American to own this recognition. Congratulations to both Dr. Keller-Dupree and Dr. deBanzie for this prestigious recognition of your innovation and creativity.
In The News
NSU HOSTS ROBOTICS EDUCATION & COMPETITION STATE OK CHAMPIONSHIP
CELEBRATION OF TEACHING
NSU's College of Education hosted their annual Celebration of Teaching event for middle and high school students on January 26, 2016.
In The News
NSU GRADUATE NICK HUGHES 2016 OK SCHOOL COUNSELOR OF THE YEAR
COE WELCOMES BACK STUDENT 15 YEARS LATER
Adam Brown started studying Early Childhood Education in 1995 at Northeastern State University when he was 20 years old. While he enjoyed school, at the time Brown wanted nothing more than to become a firefighter. He left in 1998—without completing his degree. Fifteen years later, after retiring from his dream job due to injuries, Brown returned to NSU and resumed his Education degree, with tremendous guidance from faculty and staff.
In The News
JUSTHOPE - NSU COE ADMINISTRATORS TRAVEL TO NICARAGUA
Dr. Vanessa Anton, Dr. Allyson Watson, Dr. Jim Ferrell and Dr. Lisa Bisogno, traveled on an exploratory service learning trip with JustHope.org. The four administrators were part of a 15 member team of higher education representatives from across the United States. The group toured Chacraseca and La Flor Nicaragua to learn about social and educational impact, capacity building and sustainable projects in developing countries.
JustHope is a non-profit organization based in Tulsa, Oklahoma and is a university partner with Tulsa Community College. Administrators from TCC and NSU will plan future meetings and possible continued engagement for faculty and undergraduate and graduate student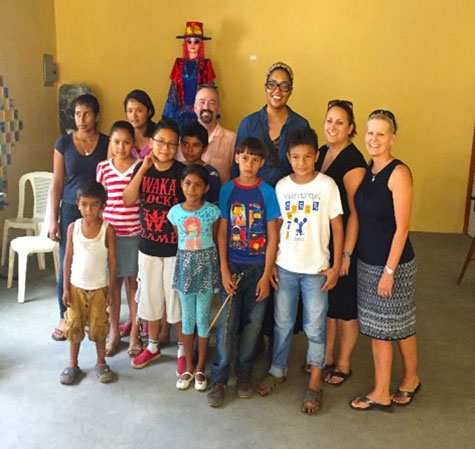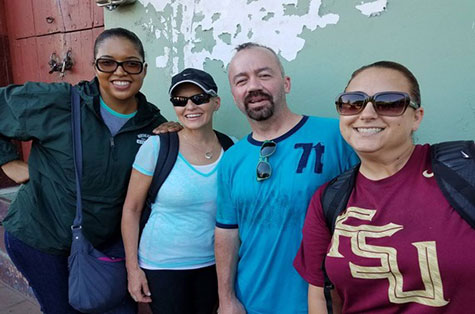 COE HIGHER EDUCATION LEADERSHIP STUDENT FACILITATES WORKSHOP AND WINS COMPETITION AT NASPA CONFERENCE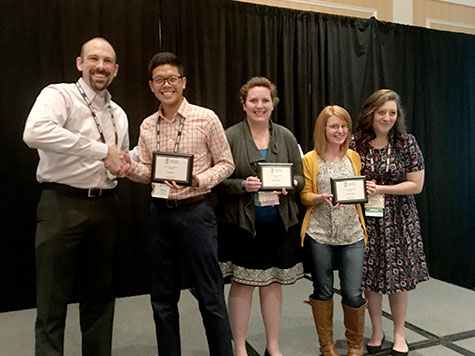 NSU's Counseling Programs First in State to Receive CACREP Accreditation
NSU became the first university in Oklahoma to attain Council for Accreditation of Counseling and Related Educational Programs (CACREP) accreditation in three specific counseling degree programs - Addiction Counseling, Clinical Mental Health Counseling, and School Counseling.
In The News
NSU: JOB FAIR FOR PROSPECTIVE TEACHERS POTENTIAL TEACHERS, SCHOOL DISTRICTS SEEK MATCHES AT NSU JOB FAIR
The Teachers Job Fair at NSU Broken Arrow connects education students who are expecting to graduate soon with schools, district representatives, recruiters, and cooperatives. Students can schedule interviews with prospective employers during this event. Many schools are willing to hire candidates "on the spot" if they are a good match. Employers from Oklahoma, Kansas, and Arkansas especially seek out special education, secondary math, and secondary science teachers.
In The News
Potential teachers, school districts seek matches at NSU job fair - tulsaworld.com
NSU, CASC PARTNER TO OFFER 4-YEAR DEGREES IN ELEMENTARY ED AND SPECIAL ED
Beginning in the fall of 2015 Northeastern State University will begin offering potential teachers wishing to complete a Bachelor's degree in Elementary Education or Special Education the opportunity to complete their degrees at the campuses of Carl Albert State College (CASC) in either a full-time or part-time format.
Plans for the partnership began in the summer of 2014 after NSU's Transfers & Parent Programs Coordinator brought to the Education department's attention that there was a strong need for teachers in the Sallisaw and Poteau areas. Although the idea was discussed several years ago, the Education department now believes that the technology, through the use of Blackboard Collaborate, and the willingness of dedicated faculty members, will allow for the program to run successfully.
In The News
SNAG GOLF SCHOLARSHIP FUNDRAISER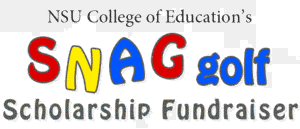 DR. ALLYSON WATSON, COE ENDOWED CHAIR, HONORED WITH PINNACLE AWARD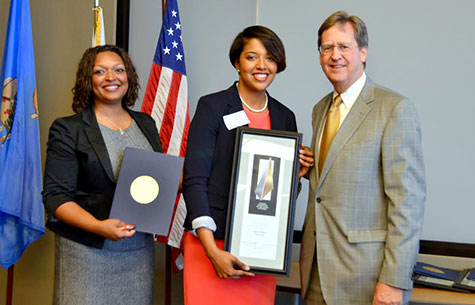 Dr. Allyson Watson, endowed chair for Urban Education, Outreach and Research in the College of Education at Northeastern State University, was one of seven women who received the 2015 Pinnacle Award from the Mayor's Commission on the Status of Women, Wednesday at Tulsa's City Hall.
In The News
NSU Endowed Chair honored with Pinnacle Award - nsuok.edu
NSU COLLEGE OF EDUCATION FACULTY MEMBER AND STUDENT RECEIVE DAVINCI INSTITUTE AWARD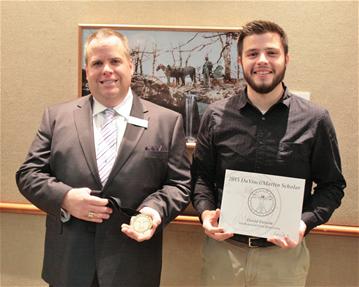 COE Associate Professor and director of the Reading Clinic on the Broken Arrow Campus, Dr. Stephan Sargent, and Elementary Education major, David Dotson, were honored at the DaVinci Institute award banquet, March 27, 2015. The institute recognizes outstanding creativity in higher education.
In The News
NSU College of Education represented at DaVinci Institute awards banquet - nsuok.edu
NATIONAL TEACHER OF THE YEAR SPEAKS AT THE COE CELEBRATION OF TEACHING EVENT
National Teacher of the Year, Sean McComb, spoke to high school students at NSU's College of Education Celebration of Teaching Event, March 3, 2015, at NSU. Oklahoma's Teacher of the Year, Jason Proctor, (math teacher at Tahlequah High School) also hosted a panel with other top teachers--Tonya Boyle, 5th grade teacher at H. Cecil Rhoades Elementary School, Broken Arrow (2015 OKTOY finalist); Lezlie Gilbert, 2nd grade teacher at Heritage Elementary School, Tahlequah (2016 Heritage Elementary TOY); Shawn Sheehan, special education teacher at Norman High School (2016 Norman HS TOY); and Diane Walker, history teacher at Muskogee High School (2015 OKTOY finalist).
In The News
Top teacher speaks to high school students at NSU - muskogeephoenix.com
NSU HOSTING STATE VEX ROBOTICS COMPETITION MARCH 7, 2015
On March 7, at the NSU Event Center more than 300 elementary, middle and high school VEX Robotics students and mentors from around the state of Oklahoma will be competing in the Oklahoma VEX State Championship.
In The News
NSU to host state VEX robotics competition – Mar. 7 - nsuok.edu
YOUNG INNOVATORS GEAR UP FOR LOCAL VEX ROBOTICS COMPETITION AT NSU
More than 300 leading middle and high school VEX Robotics students and mentors from around the state of Oklahoma will unite at the NSU March 7, 2015, at the NSU Event Center for the 2014 for the VEX Oklahoma State Championship.
In The News
Young Innovators Gear Up For State Vex Robotics Competition - nsuok.edu
PSYCHOLOGY & COUNSELING NEWSLETTER
Psychology & Counseling Newsletter Spring 2015 (pdf)
NSU ROBO HAWKS QUALIFY FOR WORLD COMPETITION
Congratulations to the NSU1 RoboHawks Team who traveled to League City, Texas, on 2/21/15, for a regional robotics competition. They placed first and are now qualified for the World Championship.
Rankings:
#1 NSU1 RoboHawks Northeastern State University 6-0-0 (12/37)
#2 HEAT Synergistic STEM Outreach Center Houston ENT 5-1-0 (10/46)
#3 OWLS Rice University 4-2-0 (8/30)
#4 GATR University of Florida 4-2-0 (8/19)
#5 CELTS University of St. Thomas 2-4-0 (4/26)
#6 RUT University of Texas Austin 2-4-0 (4/1)
#7 UHCGS University of Houston 1-5-0 (2/23)
#8 TXMX TexMex Robotics BONBOTZ-U 0-6-0 (0/0)
In The News
NSU RoboHawks bring home championship title from Robot Jubilee - nsuok.edu

The CLARION Newsletter Summer 2015
Inside This Issue:
Teaching for Inspiration: Celebration of Teaching
The Educator's Desk: From the Classroom to the Court!
Spring 2015 Student & Faculty Spotlight
3rd Annual SNAG Golf Fundraiser Save the Date
Alumni Spotlight
Bon Voyage Dr. Geise
Photo Gallery
The College Clarion Summer 2015 Newsletter (pdf)
SMART CHOICE EXPANDED AT CASC
The partnership between Northeastern State University and Carl Albert State College has taken another positive step. This fall, the first cohort of elementary education and special education majors will benefit from the Smart Choice transfer program between both institutions.
In The News
NSU, CASC partner to help education majors graduate - nsuok.edu
THE CLARION NEWSLETTER FALL 2015
Inside This Issue:
Message from the Dean
Fall Opening Meeting Highlights
2015 Faculty Awards
The Counselors Corner
White House Convening on College Counseling
Department of Psychology and Counseling Gain National Accreditation
Bagley Reunion 2015
SNAG Golf Annual College of Education Fundraiser
NSU Robotics RACE Team Hall of Fame Inductees Highlights
KIPP 8th Annual College Day
Alumni Spotlight
OKLAHOMA TEACHER SHORTAGE TASK FORCE RECOMMENDATIONS
SPECIAL EDUCATION CANDIDATE WINS AWARD
Breanna Potter, from Sallisaw, recently received the Indian College Student of the Year award at a ceremony on December 2, 2015 at the Artesian Hotel in Sulphur. This was part of the 36th annual Awards Luncheon sponsored by the Oklahoma Council for Indian Education. Potter is a member of the Cherokee Nation and is a senior at Northeastern State University (NSU), majoring in Special Education—Mild/Moderate Disabilities.
In The News
NSU & CARL ALBERT STATE COLLEGE HOST INFORMATION SESSION>
Beginning in the fall of 2015 Northeastern State University will begin offering potential teachers wishing to complete a Bachelor's degree in Elementary Education or Special Education the opportunity to complete their degrees at the campuses of Carl Albert State College (CASC) in either a full-time or part-time format.
To kick-start enrollment in the program, on April 6, NSU and CASC will be hosting an introductory information session on the Sallisaw CASC campus for students who plan to pursue either of the degree programs or would like more information. The event will take place at 5:00 p.m. in the Delores O'Guin Mitchell Library, and representatives from admissions, financial aid, academic advising and the College of Education will be available to assist and answer questions.
For more information regarding these academic programs, please call Dr. Tritschler at 918-444-3710 or email her at tritschl@nsuok.edu or Suzanne Myers at 918-444-2137 or myers@nsuok.edu.
In The News
NSU, Carl Albert State College host information session for Elementary and Special Education degrees - nsuok.edu
TEACHING & URBAN REFORM NETWORK MAKES AN IMPACT IN TULSA!
All education students must spend some time as an intern first. NSU takes it a step further by introducing future teachers to urban teaching environments to better prepare them for the challenges they may encounter. The outcomes are proving this program effective.
In The News
Future Teachers Get Experience In Urban Tulsa Classrooms - newson6.com

Northeastern State University Urban Education Program lifting test scores for north Tulsa elementary - kjrh.com
ROBOTICS TEAM SHINES IN GLOBAL COMPETITION
The robotics team of Northeastern State University, Edubots, received much attention and praise during a recent global competition.
During its April 15-21 trip to the 2013 VEX Robotics College Challenge World Championship in Anaheim, Calif., the NSU College of Education team of future teachers competed against future scientists and engineers. They finished 44th in the 52-team field and earned the Judges' Trophy.
In The News
CBS STEVE HARTMAN AT NORTHEASTERN STATE UNIVERSITY
Steve Hartman visits Northeastern State University College of Education's Cappi Wadley Reading and Technology Center.
In The News
NSU COLLEGE OF EDUCATION ALUMNUS NAMED OKLAHOMA PRINCIPAL OF THE YEAR
Mrs. Theresa Kiger, of Roy Clark Elementary in Union Public Schools, was named the Oklahoma State Principal of the Year. Not only is this an extremely prestigious award, but it is integral to NSU for two other reasons. Mrs. Kiger is instrumental in the preparation of teachers at NSU-BA in the reading program. She is actively involved in the College of Education reading curriculum course (READ 4063) and has provided space (weekly) and students to us for the past 9 years. Second, Mrs. Kiger has both her bachelor's and master's degrees from NSU!
In The News
DR. STEPHAN SARGENT EDITOR FOR THE OKLAHOMA READER
COE PARTICIPATES IN JOPLIN TORNADO CLEANUP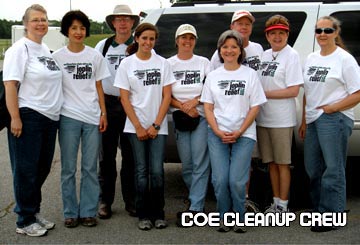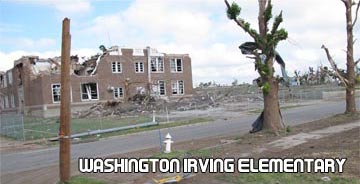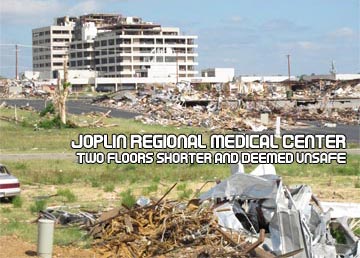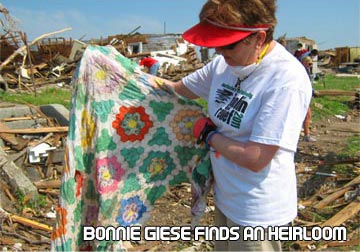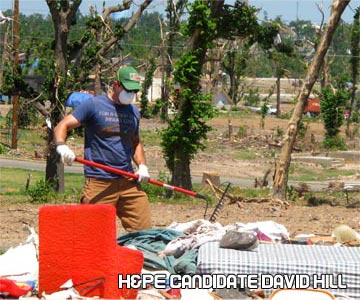 KAPPA DELTA PI EDUCATIONAL HONOR SOCIETY INDUCTS NEW MEMBERS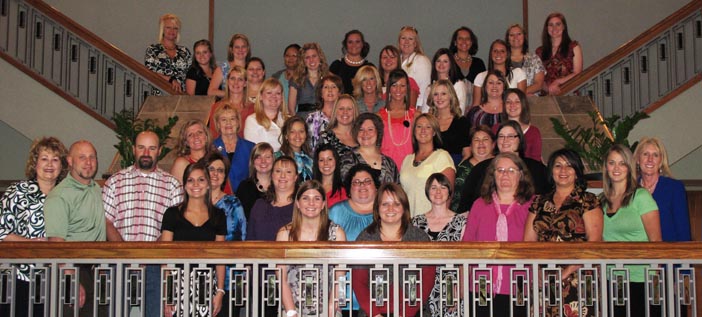 Kappa Delta Pi, International Honor Society in Education, is pleased to announce that 70 new members were inducted into its membership through the Kappa Rho chapter of Northeastern State University on April 17, 2011. The ceremony was conducted on the NSU-Broken Arrow campus.
The Society inducts only those individuals who have exhibited the ideals of scholarship, integrity in service, and commitment to excellence in teaching and its allied professions. Selection as a member of Kappa Delta Pi is based on high academic achievement, a commitment to education as a career, and a professional attitude that assures steady growth in the profession. At Northeastern State University, education majors with a 3.25 GPA or better are eligible for membership.
Founded in 1911 at the University of Illinois by William C. Bagley, Kappa Delta Pi is the largest honor society in education, representing 572 undergraduate and professional chapters and more than 45,000 active members. The Kappa Rho chapter was begun at NSU on May 13, 1966. Kappa Delta Pi's most distinguished members over the last century have included Margaret Mead, Albert Einstein, George Washington Carver and current leaders in education Howard Gardner, Maxine Greene, and Carol Gilligan.
Local Contact:
Deborah Landry, Ed. D.
landryd@nsuok.edu
918.444.3710
National Contact:
Kelly M. Skinner
Director of Membership, Kappa Delta Pi
kellys@kdp.org
AVERY CHAMBERS SELECTED AS A 2011 DAVINCI-MARTIN SCHOLAR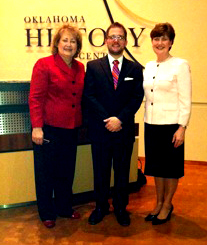 Each year the DaVinci Institute, Oklahoma's Creativity Think Tank, honors a special group of Oklahoma teachers by recognizing them as DaVinci Scholars. These ten teachers possess a unique set of characteristics. Each has graduated from an Oklahoma college or university. Each has chosen to remain in Oklahoma to build a teaching career and is currently employed as a teacher in an Oklahoma public or private P-12 school. These DaVinci Scholars practice interdisciplinary instructional methods in the classroom, recognize and support the value of multiple intelligences, individual learning styles, and foster creativity and critical thought in students. A DaVinci Scholar collaborates with peers and parents and understands that learning is not static but rather an ongoing lifelong process.
Avery stated, "First, I want to thank each one of you for your support and your undying commitment to give outstanding service to our future teachers. Second, I want to state how honored I am to have received this award.
Avery, an NSU COE graduate and teacher education candidate, was accompanied to the awards banquet in Oklahoma City by NSU DaVinci Fellows, Dr. Linda Wilson and Dr. Martha Parrott, as well as Dean Kay Grant.
More about the DaVinci Institute
NSU GRAD NAMED BARTLESVILLE TEACHER OF THE MONTH FOR JULY