College of Education Degree Programs
Bachelor's Degrees - Master's - Certificates
The College of Education offers six bachelor's degrees, nine master's degrees, and several certificates.
Secondary Education
The advisors for candidates certifying to teach in secondary schools or K-12 certifications are located in the college that offers the bachelor's degree.
College of Science & Health Professions
All teacher candidates must apply for admission to teacher education, enroll in professional education courses, and complete internships in the College of Education. For more information about admission to teacher education contact the Office of Clinical Education.

Discover a Rewarding Career in Education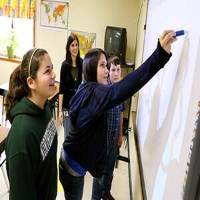 DO YOU WANT TO...
Impact Lives?
Create a better future for others?
Make a difference in your community?
Northeastern State University offers degree options in teacher education at both the baccalaureate and master's degree levels as well as degrees in wellness, fitness, and psychology.
The College of Education offers degrees on all three campuses:
Tahlequah
Muskogee
Broken Arrow
WHY NSU? BECAUSE WE...
Graduate more educators than any other college in the state
Prepare students to be career-ready through diverse and innovative internships
Give more personalized attention with smaller class sizes