College of Education
Welcome to the College of Education (COE)
The College of Education at Northeastern State University prepares educators, counselors and fitness/health professionals to serve Oklahoma and the entire nation. Whether your career goals center around teaching in public schools, working with those seeking healthier physical and mental lifestyles, or attending graduate college for advanced preparation, the College of Education wants to help you reach your dreams.
Our outstanding faculty focus on preparing professionals who are teaching scholars, educational leaders, and developers of human potential. Our teacher candidates and other graduates are committed to excellence in their fields and making a difference in their communities.
We are comprised of five departments:
Bagley Hall
717 N Grand Ave.
Tahlequah, OK 74464-2300
Phone: 918-444-3700
Fax: 918-458-2351
Education, Building C
3100 E New Orleans St.
Broken Arrow, OK 74014
Phone: 918-449-6129
For inquiries or to provide comments and feedback, please contact us at
NSU-COE@nsuok.edu.
Message from the Dean
It is my pleasure to welcome you to the College of Education and to thank you for your interest in joining the Northeastern State University family.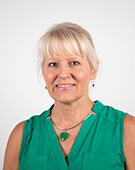 Dr. Vanessa Anton
Dean, College of Education
Bagley Hall 138
918-444-3742
anton@nsuok.edu
Gather Here. Go Far.
Whether you are interested in becoming an educator, a school administrator, a counselor (school, addiction, mental health), or a health/fitness professional, you should know that we are highly committed to continuous improvement by achieving results through rigor, relevance, relationships, and responsibility, thus facilitating highly qualified professionals in a diverse global society. The College of Education shapes the future of the region as the educational partner of choice and we are recognized as a leader among other universities in Oklahoma by effectively preparing individuals to have a positive impact on the lives of students, families, and communities.
Our outstanding undergraduate and graduate programs are provided through various methods of course design convenient to students in their busy lives--including blended-hybrid, online, and traditional face-to-face. Our students have many opportunities to engage in immersive/experiential learning--from local experiences to international experiences. We believe that you learn by doing, and this is reflected throughout our coursework. Our faculty are recognized at the local, state and national level, and you will receive the individualized, quality instruction that you need to succeed.
I appreciate your interest in the programs the College of Education has to offer. Please browse our site to learn more about the College, our faculty, staff and professional preparation programs. We would love to talk to you about your future. If you have questions about any of our programs, please contact one of the following departments.
Thousands of educators and other professionals began their journey in Northeastern State University's College of Education, and we hope you join this distinguished group. The leadership, faculty, staff and alumni from the College of Education are so excited about the opportunity to serve you!
Events
IDEA STEAM Summer Academy 2023
June 05, 2023
Sponsored by College of Education: Innovation & Discovery Education Academy


Monday-Friday


All participants
must
bring their own lunch.
Cost includes snacks, all supplies and t-shirt (one t-shirt per summer participant).
Due to increases in supplies, we have chosen to ask your child to bring lunch rather than raise the price for each academy).
Location:
Special Services
Innovation & Discovery Education Academy
798 N. Vinita Ave
Tahlequah OK 74464
Academy Times: 8:30-4:00
Early drop off - 7:45-8:30
Late pick up - 4:00-5:00
The cost for early drop off/late pick up is $25.00 per week. The language in the consent form states children should be 20 minutes early for drop off and can be up to 10 minutes late for pick up. Anything outside of those times needs to register for early drop off/late pick up and is charged the fee. The morning times are 7:30-8:30 a.m. and the evening times are 4-5 p.m. When you register for the youth academy, you will also see the option in a separate order to order early/late drop off.
Link for more information and registrations:

https://academics.nsuok.edu/continuingeducation/YouthPrograms/TahlequahRACESummerYouthAcademies.aspx